Give me a reason
October 23, 2009
Give a reason and paint it in red,
Explain me your point and have it all said,
Paint in the sky and set a new day,
Then write your reasons for going your way.

Your reasons aren't clear, they don't sound like you,
I might have better talk with a manky old shoe,
I doubt you're in earnest, I know you lie,
I shouldn't trust you, him, or even that guy.

Go pack up your paint set and don't send a letter,
No matter what you think it won't make it all better.
Meet a new girl and paint her some art.
She'll fall for your lie strokes, I feel for her heart.

You con artists don't fool me anymore,
I learned to live on my own instead of feeling so sore.
Don't give me your reasons, they're too lame for me,
I've finally moved on with your messing with me.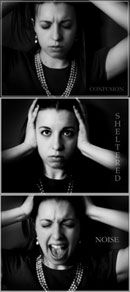 © Michelle B., Blairsville, GA