Lithium Dreams
August 28, 2009
At night, when I ly in bed.
I try to get some sleep
But all these thoughts have filled my mind,
and taken over my dreams.
I never imagined that where I'd be
is where I am now.
I'm in love with you, forever,
and forever here I'll drown.
The water is made of silver,
and it"s slowly inviting me in,
while the snow-covered trees surroundng
tell me it's too cold to swim.
The moon beams lightly warm me,
just like your arms used to,
and pull me in gently,
just like you always used to do.
I swear I can hear your voice,
ringing in the air like a tune,
deceiving me with their words,
as they whisper your, "I love you..."
So I take a step in,
as I feel it"s embrace.
I sink in deeper,
and I begin to see your face.
The liquid closes tight around me,
and it's harder to catch my breath.
But to be here where I can see you...
THat is where I'll take my death.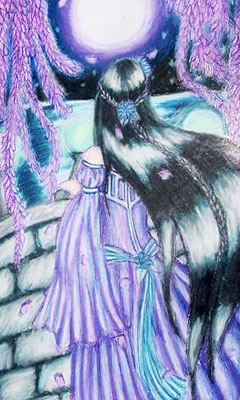 © Kelly K., Fort Collins, CO