Love Story Between Woman And Water
August 17, 2009
Free fall, motionless; blur of white dancing through.
Kiss me as I dive into your lips
Crashing to the surface, cool rocks like dreams under my toes.
I feel like snow angels in summer, invisibility.
Your reflection hits the lighthouse's beam, black dog echoes to the stars
Silhouettes embedded into the cool sand, I trace them with my fingers.

I see the fluffy outline, blurred in velvet night
Barks at the sunset, the ribbons of peach, darker in the center
At the heart, at the need.
The dog sings at the sun as it meets the lake, "Meet the horizon of water and mud."
I want to stay here forever,
I want to silence him,
Your water is harmless,
Draws me in-

I feel your water like silk
Wiggling in between my toes, my fingers,
Paint brushes on bone.

The dog shifts in shadows,
Echoes once again and now I see
Moonlight is what called me here-

Under your arms, water, I feel you in my skin,
Feel my heart tingling,
Can you hear it beating like a drum?
Listen quickly but not too fast,
Your waves will surely wake.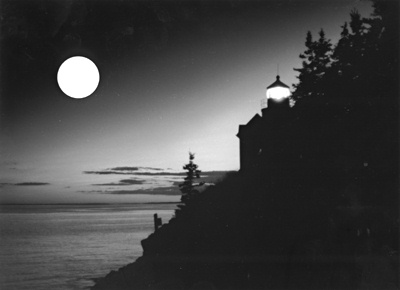 © Steve S., Marblehead, MA