salient murmurs of belov'd gods
August 16, 2009
The salient murmur of your voice
dominates
godly among the mortal whores I have cast beyond my realms
and its relinquished mauves were ghosts upon flesh
long discarded from another's sanctuary. And I was a wet cry,
slipped from lips as an anguished praise towards your religion, and lack of reason.

Familiar were your words,
but not for me longer,
had they held me rapaciously rocked me in your adoration only in name,
age-d were our limbs, heavily fasten as wide sails; sometimes I wondered
were the incensed winds beneath your words yielding,

were I velvet and more of a vagary paramour, quick with tongue
and confident with breasts that were suckled, no longer am I dust
or human, but the soft nexus fluttering between your unhampered genitals ---
kindle the warmth that held these wings secured, or be glutton and drunk
upon the homeric sorrows you mock, let them fill your emptiness
unlike your celestial goddesses, with their creatures of gold and silent wombs?

Had we felt the universal axis shift, would you let me fall into its chasm
or keep me tucked in your palms, a beautiful and glittering thing?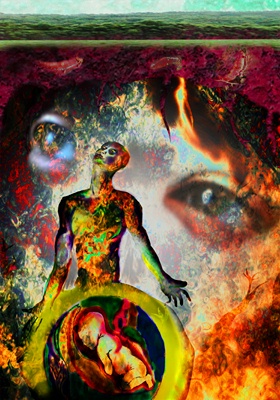 © Tom M., Philadelphia, PA