Smear in Thin Ink
August 22, 2009
Smear in thin ink, my wretched veins

And leave no longer pen from pains.

Instead move faster: form, shape, kill

Beauty's unsaved sorrow, drowned by a pill.
5
The medicine of love, who never knew

He was my death until I solemnly flew -

Away to the top of this book he once wrote -

Then he stabbed and tore on until I broke.

No longer a key to fit in this lock-
10
He laughs at me, with his friends, he mocks -

So dare laugh when I find wings to fly?

Your angelic halo is losing its shine.

You'll rewrite me one day as a fading ghost.

In gravely pens while graves don't host -
15
My crumpled pages, these crying tears

And lost words that hurt you in your darkest years

Erased these feelings, my poet, you did -

While away my heart - not cover - you bid

To leave you alone in the middle of the night
20
So, now your book walks - pale to bite.

Bring blood from my author who killed me, he dared

To write myself in hate because my poet never cared.

Evil it stands, the one you shoved down -

Cursed and troubled - dying without a sound.
25
Be afraid of the shelf because books wrote you -

We are misled and for you, untrue.

So, Liar, the poet, for that is your name?

Did you write me as this book to be insane?

Without proper cause and a vicious, hating love -
30
Covered under earthquakes and lies, not above?

So, pen is they whip, then what of chains?

Smear in thin ink through my wretched veins.

Bullets like fingernails to puncture with thrill.

Instead, they moved faster: formed, shaped and killed.
35
You threw away your journal. Me, myself, I.

And so now you're left alone, weak as you die.

Bring blood from my author who killed me, he dared

So, I can write myself in hate because he never cared.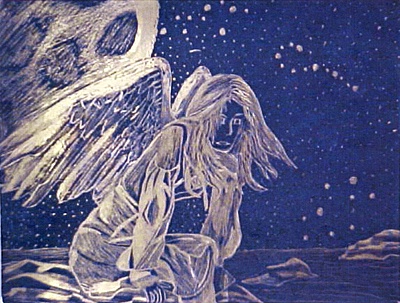 © Kaylen C., St. Clair, MI