Broken
May 3, 2009
We've been through some rough times,
I've go my holes to show
Staples and duct tape hold it together
just so you wont know.
I'm crossing my chest
to keep from bleeding out my soul
crying in the dark
so you wont see
me poring out for all eternity.
I've got my razor by my side
cutting where you don't see.
My drink in hand
leaking all over me.
Coughing from those cigarettes
we shared last break
tears leaking out of these
muddy green eyes
another drink another cut
can't stand all these lies.
I'm not who you thought I was
I've changed so much
I don't know who I am
nobody does.
Stumbling up
I clutch the edge.
Breaking the bottle
I grasp a shard
deeper, deeper.
Glass shards are scattered around me
like leaves from a fallen tree.
I cut your name deeper into my arm
SHAUN
straight across it.
Your picture clasps in my hand
looking up into the rain
thunder sounds.
I climb onto the edge and
jump.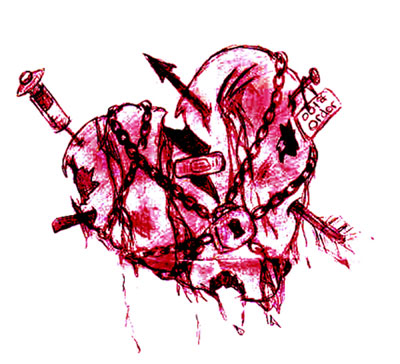 © Asia B., Hudson, MA