Go
MAG
Your eyessay green and I go,
speeding ahead till they yellow,tear,
turn red

I'm on this road all nightlong,
faster and faster, are we heading toward a...
dead end?

Or maybe the dawn will come,
andhang on the eaves of a church, waiting,
for us.

Butfor now I'm content,
driving your byroads, seeing yoursights,
waiting for day.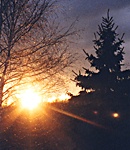 © Vhristy S., Germantown, NY