The Wine and Cheese to Your Bread and Water
April 6, 2009
I want to be a historian.
No, I didn't say electrical engineer.
Such sinful words, you say,
Should not be spoken
In this haven, this school for math and science nerds.
I'm making holes in the carefully calculated curve,
I'm disrupting the natural flow of where we're meant to go
And who we're supposed to be.


Yes, despite all I've seen and learned,
I've yet to be converted
To the practical side of life.
Scientist, engineer, doctor, lawyer, I'm so TIRED
Of hearing those titles.
Yes, they're prestigious;
It's hard work, and it's propriety; I'd better our society and make a difference,
or save lives, or win the Nobel prize,
Yes, the strangers I'd meet would ooh and ahh, [beat]
. . . But I'd have no time to watch them react.

People are so interesting,
So weird, so unpredictable,
Illogical, but following their own strange dreams and values.
I could occupy myself for hours
Just watching one of you.
But get a whole group of them together,
All with different ideas,
Tens, Hundreds, Thousands, Millions of people,
And observe them for a day, a decade, a century, an era!
And that, my friends, is quality entertainment!

I hope, I suspect, I know,
Someone here will invent the Next Big Thing in Technology
Or find life on Mars or the cure for cancer,
But I don't want to be that person.
I want to be the person writing it all down.

Maybe it's not vital;
Maybe it's a bit trivial,
It's a luxury subject, an extra.
Like wine and cheese to your bread and water.
But nothing in the world amazes me more
Than seeing us humans try so hard
To make things better than before.
Well, I'll show you the before,
And you can make the after.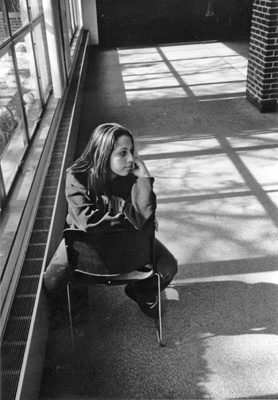 © Leighann E., Westport, MA