Silent Tears
July 27, 2009
Tears drip down my cheeks,
I don't make a sound.
My eyes begin to burn,
My heart begins to pound.

From the sound of your sweet laughter,
To the look of your beautiful smile,
I remember these things,
They make me cry for a while.

I cry when I am all alone.
No reason to be ashamed,
No reason to hide my face.
I cry in my own space.

The memories come back,
The sadness comes back too.
The tears sprout in my eyes,
They roll down for you.

Silently.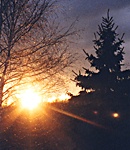 © Christy S., Germantown, NY