The Perfect High School Love
MAG
(This canbe thick or thin.)

Take 1/4 cup of love,
2 cups disagreement,
3 cupsaffectionary sugar,
1/2 T emotion
and 1 stick (3 cups)
meltedunderstanding,
and 3 t powdered destiny (for
permanentresults.)

Blend all ingredients except destiny together to
desiredthickness, put into oven
on high for a little while, take out
and put in acool place for two hours,
sprinkle with destiny.
(For best results, addtwo
people who fancy each other.)

As you can see, this is the perfecthigh
school relationship everybody dreams of.
A little disagreement, a lotof love, and just enough
emotion to spark a feeling for these twopeople
to see that they are the ones meant for each other.

Thisrelationship will last through thick and thin.
Beware though, too muchdisagreement will
result in not such a dreamy relationship!

Of coursewe all know that we
need in a relationship a little bit of
ourselves, sojust remember,
not enough of us in a relationship,
it becomes only amemory, too much
and it becomes like a stalking.

There are nosubstitutes for love.
Only a feeling of loneliness.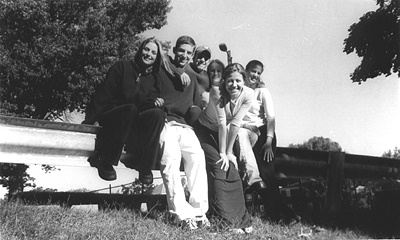 © Carolyn C., Marblehead, MA