The Breakup
July 31, 2009
Whisper words into my ear
Words of love
And
Words of Fear
The clouds will
Rain
And
The sun
Will shine
But no matter the weather
Please always be mine
Remember that time? Just you and me
Sitting down by the tree
In a world
So perfect
And we're free
As can Be
Remember that day?
Walking through the wet
Minds So far and Hearts So close
Advil or crack I need a double dose
But then we fell
We came to A crash
Astop
A boom
A halt
Tis this accident Is our own fault
So you Go your way
And I Go mine
Two separate paths
Wrap into a twine
Tears will fall
Words will bite
Sometimes a quiet suffer
Sometimes a clear fight
Now paths untwine
You go your way
And I go mine
The trees and wet are gone
So is the entwine of our hearts
And so much more
Months and memories thrown out
Through the break up door
By now so much has been kept secret
And much has been said
True thoughts only escape when
Im alone, at night, in bed
Im not sure why I wrote this stupid rhyming poem
Maybe for him and maybe for myself
But its getting better
No more bites
And somewhat less tears
Maybe some confusion
But no big scary fears
Its alright now its ok
He's just fine And so am I
Its summer
Hip hip hooray
Fun and entertainment
Every single day
Im growing and Discovering
Everything is new
One of the people I have to thank
is the one and only you
Partly of you
Somehow some way
I am the way I am
This very day
The clouds have rained
Here comes the sun
I remember telling you "your a freaking fool"
But then we dried
And so this morning I ask
"So............we're cool?"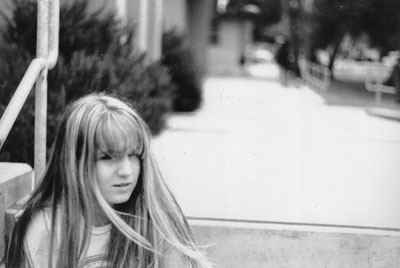 © Alyssa R., Pacific Grove, CA