Just Friends
July 31, 2009
He waves her over, excited
as they pass in the hall and
She walks over
Pasting on that hard
Practiced smile.
Hides her hurt and
Tries to remember
Why she agreed
That it was o.k.
Alright.
Just Fine.
For them to return
to Just Friends
But she isn't.
He was
her first
Love. The one
She'll always remember.
She'll aways reminice back
to the good days:
Holding hands
Laughing out loud
When he held her close
And told her she was
Beautiful. Even though
She had just gotten off
from a
Long
Hot
Exausting
day of Band Camp
Even though her frizzy hair
was flying
every which way,
She was covered in
Salty, coconut scented sweat,
And She was so tired
and sore that she could barely
Stand.
Those were some of the best
days of her life.
But he reduced it.
Now, she has to be satisfied
with Just Friends.
She has to work.
Labor over the effort
Of trying to be cheerful
Trying to smile
Trying to be the same girl
he knew
from before.
Before he told her that
she wasn't really his
Girlfriend. More like
a girl friend.
That he was just going through
the motions.
Like a machine
Set on "Melt her Heart"
She tried.
Worried.
Begged for another chance.
But he refused.
And now
After it all:
The love
The innocent romance
The best two months of her life
She must be
content as
Just Friends.
Back to Today,
She realizes
She zoned out
Didn't hear him
Going on and on
Excited about something
Her mind wandered.
Returning to the past
and lingering there.
Until he
snaps his fingers
in front of her face,
yanking her back
to reality- the "here" and the "now"
She jumps, startled
Turns red and asks him to repeat.
He sighs, Obviously annoyed.
But just a little.
"I wanted to know,
Would you come to Homecoming with me?"
She grins. "Of course!"
The clouds disapear,
just for a moment.
Then he finishes,
"You know,
Just as Friends"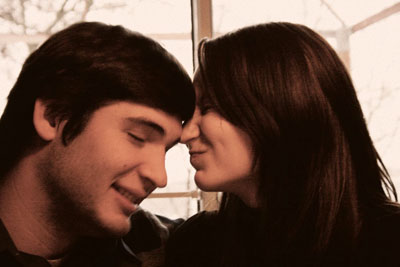 © Hannah L., St. Louis, MO