Untitled
MAG
angelo's sleeping
look at him trembling
watch as his eyesburn.
his savored existence
is shaped for him
made for him
taken fromhim.
and he's left on the side road
to wonder and wait
and slowlyunravel.
he's been given a chance to
taste the divine,
but he's raped ofhis beauty
persuaded by charm
and a beautiful sky full of stars ...
he'sshivering, cold
in a desolate island of graham-cracker
hopes andgingerbread dreams that are
theirs for the taking.
he's wonderful,des-per-ate
consumed by a fire
that's made up of ashes
and cornerstonelies.
angelo's weeping
he's naked and radiant
awash with the blood ofmyriad touches
and wounds that he's made with his mind ...
millions oftiny, razor-edged droplets
fall from those eyes that are carvedof
Perfection
and hatred disguised as the purest of
snow.
angelo'sfading
watch as he shimmers
and bleeds raw emotion from
spider-silkveins and the
skin of a
Monster.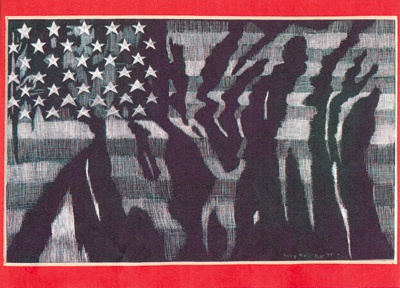 © Haley M., Ellinwood, KS