Mastering Silence
MAG
Silence resides in the
Stoic mountains of my mind,
Watching overthe still, dusty water.
It moves swiftly, but is never seen,
Wind thatbrushes the sides
Of the slopes with white paint.

When walking thesemountains,
Nothing will touch my ears.
Except for
The sound,
Theprickle,
Of snow riding silence,
Of snow riding wind,
Re-enacting arainy day ...
The death of a million snowflakes.

When walking thesemountains,
My words here are felt as bursts
Of white haze...
Meaningless.
I travel the peaks,
And breathe itsair,
Extinguishing the fire
Burning into my lungs,
Releasingsmoke
Which moves away,
Sharing a waltz with the wind riders.

When Iwalk these mountains,
I speak to myself.
My words are drifted
Away bythe wind.
They travel in circles,
Tire,
And die.
They mean nothing tome,
Nor to anyone else.
My words are corpses now.

When walking thesemountains,
I wait for the tremendous high tide
To swallow these peaks inpure,
Even water.
I wait for it to drown the wind.
It won't yell forhelp.
I won't let the silence engulf me.
My voice is all I have.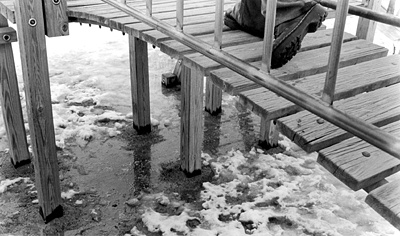 © Rebecca S., Marblehead, MA