Enlightening dreams
July 20, 2009
Enlightening dreams


I dreamt within my dream.
Such happening is frequently to be seen.
But that my two eyes saw different dreams,
Is unusually keen.

I was expecting to see,
Things great in my dreams,
As I had always seen,
But God had planned something else-it seems.

Excited as I was, I lay over the bed quickly,
Waiting for sweet dreams to come eagerly.
Soon the sun-set in my eyes,
And the dream-light covered my mind,
The same way as the moon sheds its light,
After the day has entered the night.

In no time I was in dreamland,
Free to go where my heart sang.
I felt myself floating over the hills snow clad,
To enjoy the beauty of my wonderland.
Oh! I was so weightless, to be easily,
Carried away by the breeze so cool,
As it had come from a snow pool.

My dream took me to fields,
Filled with chocolate yields.
I could talk to the insects and the seeds,
To fishes in the streams and clouds over the seas.
I could walk with insects and grow with seeds,
I could play on clouds and swim with fishes in streams.
Thus was my dream all grand,
But with a loud sound my sleep sank.

I slowly opened my eyes,
To be surprised to know where I lied.
Because I was not in my room,
But in an expanse of gloom.
I understood that I was not out of my sleep,
But that I dreamt in my dream.
Now was the time for me to see another dream,
Which no one had earlier seen.
I was going to experience things unseen,
Because my two eyes were going,
To see different dreams.

My left eye showed me the way,
To a world full of joy and gay.(happy and full of fun, lively)
God endowed me with happiness so come,
That my spirit burnt in the fire of love.
My life became so worthwhile,
That it was free of worries all-while.
Success kissed my feet,
And my fate traveled in skies neat.
Joy was filled to such in my life,
That I was accustomed to winning strife.

But now the left eye started to strain,
So the dream of fun was shut off by my brain.
It was the time for the right eye,
To show some different stuff,
More enjoyable than the previous one.
But it took me to a dream,
Which I never expected to be seen.
A dream portraying a life so awful,
In which pain and worry was in full.
Problems and difficulties were so many,
That life was of grievances full.


Suddenly my sleep sank,
Due to a loud sound of bang.
I went far from my dreams,
To the real world beings.
The dreams I saw, last night,
Made me to think deeply,
About the course of human life.
Then an enlightening thought came to my mind,
That joy and sorrow are but a part of human life.
He who fears to face the difficulties of life,
Is not worthy of receiving any joys worthwhile.
So don't fear, be a hero in the strife.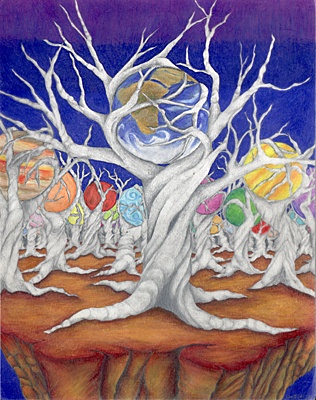 © Sara P., Lake Mary, FL