We Are Only A Little Lost
MAG
We are only a little lost,
walking through hallways with pasted-onsmiles.
One ear listening to gossip,
the other to a nagging voice tellingus,
"You are nothing."

We are only a little lost
eatingour Saltine crackers
in 15 bites per salted cardboard square,
dreading thefeeling of satiation.
After a meal of salad and cooked vegetables
we run tothe bathroom
to thrust scarred fingers down aching throats
in an attempt toexpunge the guilt.

We are only a little lost
sitting in darkenedbedrooms with headaches from crying,
or worse, not crying at all,
Pressingrazor blades and pieces of glass
to tender young skin.

We are only alittle lost.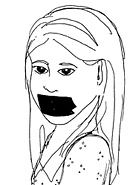 © Liza M., Vineland, NJ