Patching Odium
MAG
Itis strange how I float
after an afternoon with you
and how I sink
fromthe loneliness thereafter.
I can't feel anything
but this ache,
thispain
from the lack of breath between us.
I always thought
things wouldbe different,
that you would never change -
You love me, I know
but how,why
For what amount of time?
Always - I do hope.
These long days goby
with no communication
no word
coming forth
from your lips-
And my soul stings
knowing
I will have to be the one
to tidy thingsup,
to patch up that hole
we both made
in each others' heart.
- Oh,how I despise the odium ...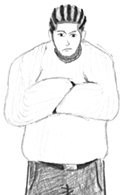 © Ryan W., Philadelphia, PA