Forever
July 22, 2009
"Forever?" He asks her.
"Forever."
But as those words
escape her lips,
She knew they'd
never be true.
A dark secret kept hidden,
Nothing she'd ever
say could change it.
Stare.
Then why worry him?
His worries would lead
to more sadness.
If she told him,
Would he treat her
differently?
Breathe.
"Are you okay?"
A protective arm finds
its way across her waist.
He holds her tight.
A silly thought crosses his mind.
But she'd been acting so strange.
He couldn't help himself.
If anything ever happened to her,
He surely couldn't keep living.
Love.
If a single tear worried him,
Then how would
He react to an
absent heartbeat.
Surely he wouldn't...
Death.
"Why do you look so scared?"
If only he knew,
if only she could tell him.
Should she?
"There's something I need to tell you.."
Panic bleeds into his eyes,
of course he tries everything to hide it.
But she knew him to well.
She saw.
Regret.
"What is it? You can tell me anything."
Something was horribly wrong.
Why won't she tell him?
Is forever really possible?
"It's just that.. Well.. I love you."
She can't tell him.
How would you tell someone
that would die for you,
that your about to
be killed?
Killed by her own.
By her own self.
Sickness.
"..Is that all you want to tell me?"
He can't stop worrying.
Why won't she just say it?
Does she want to leave him?
Is there someone else?
But he had his own secret to tell.
She didn't know,
she couldn't know.
He couldn't tell her.
But maybe if he opened up.
She would too..
"No it isn't, there's more.."
It was time,
she couldn't let him find out
himself.
It would be the death of him.
"Wait, let me go first. I've been
keeping something from you.
I should've told you, but I didn't.
I'm in trouble.."
No, this isn't happening.
Why did he say it?
"What kind of trouble?"
She was shaking now.
"Well before I met you,
I hung out with the wrong
crowd. We did somethings.."
The words hung there,
like a trapped insect on a
spider's web.
"Somethings I'm not proud of.
And they could send me away
from you. Far away.."
She couldn't take it.
Her knees gave out.
She crumpled down on the floor.
Like a withering rose,
deprived of the things it needs most.
"Y-you mean jail?"
If only he thought to himself.
"When I met you, I quit
hanging out with them.
They got mad.. And swore
they would be the reason
I cease to exist."
He was crying now.
He didn't even know he was,
till a tear fell on her.
"I have cancer. They found it
too late. I don't have that much
time left."
His world started spinning.
Everything was wrong.
She couldn't look him in the eye.
But she could feel it.
She could feel the pain he felt.
What is forever?
Time's
Up.
They hear a gun shot.
It misses.
She looks for the gunman,
he looks at her.
He knew..
Another shot made.
It hits.
But not him,
her.
"No!"
"Forever?"
She felt no pain,
in his arms.
She could stay that way,
forever.
He starts coughing,
suddenly he can't stop.
What was wrong with him?
A sharp pain struck him
in his side.
Then he smiled,
and so did she.
He knew,
and so did she.
Forever.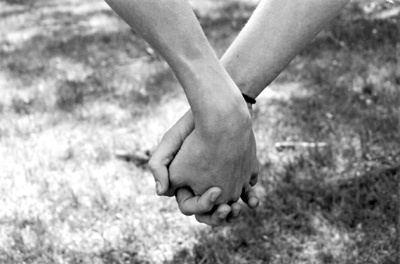 © Alexa T., Pompton Plains, NJ