Sestina
July 22, 2009
The girl looks up into the light,
Smiles and says it looks like glitter.
But her mother holds her little hand,
And tells her that it looks like rain.
So the girl runs inside the house
And puts on her little jacket.

The girl pulls her jacket
A little tighter, upset that the light
Has disappeared from above the house.
The girl takes out all of her glitter
And recreates the light, sprinkling it like rain
Descending out of her small hand.

But her mother comes in and takes her hand,
And runs it down the little girl's jacket,
With tears falling down her face like rain.
"Go out, dear, into the light,"
The mother says, her smile like glitter.
And the girl smiles back and runs out of the house.

The mother looks from inside the house
At the knife in her own hand.
The blade sparkling, much like glitter.
The mother looks at her daughter in her jacket,
How oblivious she is, relishing the light
And unaware of the pouring rain.

The girl sees the rapid rain
Falling on her little house.
She suddenly wishes for a bright light
To come upon her mother's hand.
The girl pulls on the hood of her jacket
And wishes for miracles and glitter.

The mother wishes the same wish for glitter
Instead of the always pouring rain
That forced her daughter to put on the jacket.
Her mother cries out from inside the house
And the girl comes in to see the knife in her mother's hand,
She finally went to see the light.

The girl looks outside the house, the rain gone,
the sky now light. She pulls her jacket a little tighter and
touches her mother's hand and wishes her soul to sparkle like glitter.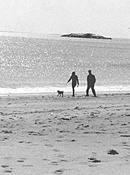 © Megan S., Marblehead, MA