Three Balloons
July 22, 2009
The sky lifted itself to reveal the clouds floating about like popcorn. I see this and wish I were a cloud.

Pure white, enveloping me while I continue to be dissatisfied. Dissatisfied because sometimes I feel like I'm in a stranger's body.I lose my sense of person for just a few seconds. There's a shift in the wind, blowing reality out of me. For a moment I am not real. I get lost.

Back inside myself, I soon find trouble. Body aches, eyes tired. Everything is real again, like waking from a dream to find that it is much later than you wanted to be. Eyes stare blankly ahead, the blue in them still sparkles. Thoughts travel in circles, I can't speak. I am in a trance. Thoughts appear, inserting themselves where they please.

What can I do to live my life better?

Next time I blow out the candles, my wish will be for a clear mind. One that does not criticize or obsess, fantasize or forget, doubt or worry. As it stands, I swim in my thoughts. I struggle to push myself through them. But it is deep, and I get distracted.

Everyone in the world that is alive is thinking right now-I'm thinking about the future. Why can't I just leave the future alone? It gives me enough problems. Then all I have left is the past and present.

My legs carry me out the door, one step at a time. I tell myself that I won't regret this. I grasp the three balloons tightly. Tears began to fall, running down my cheeks. I release the yellow balloon. This is my past. All my experiences up until this very moment are gone. I no longer have memories. The white balloon is released and floats up to join the clouds. There goes my future. Now all I have is the blue balloon, the present.That is all I need.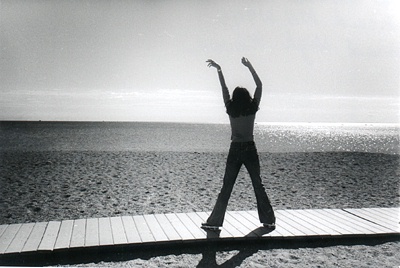 © Colleen F., Marblehead, MA