Kiss of October
MAG
The gray sky fell with tiny teardrops
Billions upon billions fell uponmy bare feet and the pale blue porch
I felt the energetic rumble
The ragethat flashed across the sky
That shook my whole being
I took off myjacket
My sweater
My bracelets
My elastics
And let my hair fly wildwith the uncertain wind
My spirit is cut loose
No strings no worries tohold me back.
Millions of dripping reddish-orange hands wave to me
And witha mighty blow, hundreds of hands
Fall down toward my mud-stainedfeet.

It's freezing and another full cycle is over
Each heavy leaf thatfalls
Adds another layer to the warm blanket that covers and protectslife
Until it's ready to show itself energetic and full blooming.
Thank youfor showing me that life never ends.
I sneeze and goose bumps suddenly appearon my bare wet arms
And I splash through the puddles back onto theporch.
Out of the rain, I wrap myself with a brown woolen robe
And watchthe drops continue to fall and fall and fall and ...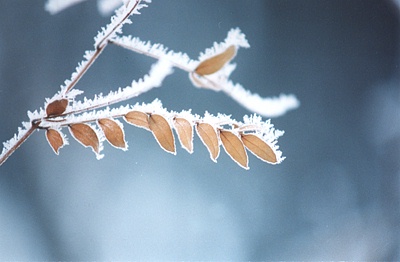 © Allison S., Eau Claire, WI