Always and Forever
July 14, 2009
The time is ticking faster now.
As you wave good-bye.
Along with all your luggage.
stacked up to the sky.

My tears are falling harder now.
I don't want to be alone.
The only way I hear your voice.
Is through the telephone.

My mind is spinning slower now.
The thoughts are melting away.
My heart aches and my body quivers.
On this empty day.

The wheels are turning quicker now.
As you punch it in reverse.
I have nothing to say, yet much to lose.
This moment I could not rehearse.

My knees buckle and I fall.
Laying upon the rock.
I begin to break apart and slowly vanish.
Within a world of shock.

I realize i cannot live without you.
I crave your presence near.
For without you I'm incomplete.
In a land of fear.

Not for long you will be gone.
You'll miss the way we were.
The way everything worked out.
This you know for sure.

Don't make it harder on yourself.
Because you know we're meant to be.
Hand in hand, heart in heart.
Always and forever, you and me.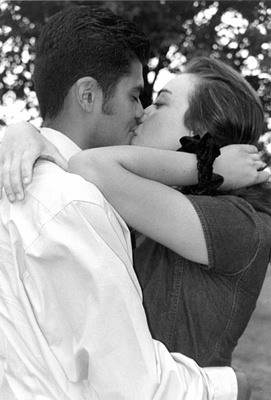 © Yaniris M., Boston, MA