The Nightmare
January 31, 2009
Night...a dim lifeless time for some, yet a black new world to others.

Night...
The word rings in my ears
As my horrible nightmares bring me to tears.

I fear the things that haunt my head,
As I lie here clinging to my bed.

I paint a mosaic in my mind
Hoping that it will be my guide,
Away into an unknown time
Where I have sight but can be blind.

I am captured by my brain,
And taken down the great abyss.
My fears spawn alive,
My hopes shatter with sleep's kiss.

All my grace is devoured,
Into nothing I am cast.
I'm a pawn to the dream master
As he toys with my past.

The torture of my mind begins as I sleep
Everything changes when I slip in the deep.

I am set outside my home
In my forest all alone.

Then I hear a horrible sound,
I begin to dash homeward bound.

Can none hear my screaming?
Can none come and help?
Why won't you rescue me
As I whimper and yelp?

I'm running through the forest
In the darkest of rhymes,
I am being chased
Like a few fallen dimes.

I scamper and flee back to my home.
The thing that follows is like a drone.

I latch the windows and bar up the door
As I start to pray to my Lord.

God please save me
I know not of my sin.
God please protect me
From the thing in my den.

My prayer is not answered in the best of ways,
And after what seems two thousand days
My futile efforts earn no praise.

The beast rams the door as I hear the wood buckle.
Then as I stand there, I hear the beast chuckle.

That thing is laughing,
Quietly too.
As the laughter surrounds me
In the room.

The laughter stops and I quake,
As the earth begins to shake.
It has almost destroyed the door,
And split the wood around the core.

I fumble and collapse into a corner
As I await the coming horror.
My eyes are filled with my tears
As I see the greatest of fears.

The door bursts open and it rushes in
Like a mighty rushing wind.

It comes with such little remorse
As it wants a blood emptied corpse.

The walls turn black as windows break,
How could I make such a bad mistake?

The floorboards shriek as they are peeled up
From the wicked sight of death's dark cup.

I feel the pain as death knocks on my door,
And my body is pulled apart on the floor.

My muscles are slashed, my bones are broken,
This is what happens when you play with life's token.

I cannot breathe for my lungs are no more,
As I lay here lifeless in this pile of gore.

Night is run off,
The daylight comes.
And silence awakens,
The murderous dove.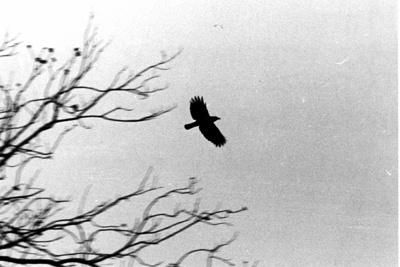 © Jacqueline T., Flower Mound, TX