Leaving
MAG
Blowingdust off the past
Reveals a familiar setting.
Bringing back immenseemotions,
I travel back
To corners of my mind
That continue to gathercobwebs.
Places not wanting to be disturbed,
But craving attention.
Istare, eyes completely fixed.

Here's my sister,
We looked so much alikethen.
Two sandy-blond curls
Dangling over her glassy green eyes,
Twosnow-white curls over mine.
In pale blue dresses, matching the sky,
Eyessquinting toward the sunlight.
Hand in hand,
Two toothless smilesemerge.

I remember that day.
It was the day we moved.
Leaving ahouse
Full of things to forget.
Torn couches, burnt dinners,
Dirtydishes, dirty clothes, dirty looks.

Mother cried after thatpicture.
Held us close,
Then hurried us to that Cadillac.
Grey, rusted,cramped, disturbed,
Just like home.

We drove.
Leaving miles of roadbehind us
Until there were no more to leave.
I realize now, so faraway,
In distance, time and thoughts,
We didn't even say
Good-bye tohim.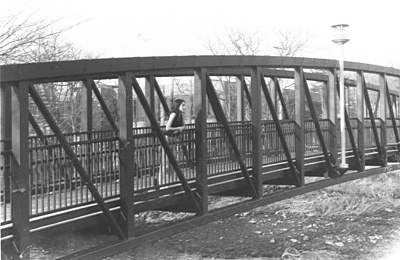 © Kim L., Milford, CT