6:66 a.m.
MAG
Igot up at 6:66 in the morning,
6 minutes after the alarm,
I put on my mostdespondent skin,
Thousand-mile eyes and no pulse,
That's the state I'malways in.
Knocked on her door at 20 past 7,
I guess she didn't want totalk to me,
She didn't have to talk if she didn't want to,
She's nicer tome than she has to be.
Corner table at Bongo Java,
Surrounded by pairs at10 till,
It made me sick so I got up to leave,
An overcharged credit cardpaid the bill.
Took a walk in the park,
Slept under a tree till 1,
I gotup only to find I was cold,
So I sat on a bench and confided in the sun.
Iwalked to her apartment,
A note with my name was taped to the door,
I readthe first line and threw it away,
In 24 hours I would've been ready,
But Icouldn't handle heartbreak on a Saturday.
At 3 I was back in myapartment,
Heating up chicken siguala and rice,
I speared it withchopsticks,
None reached my mouth,
It just wouldn't suffice.
At 1/2 till4,
I found myself walking to her apartment,
I pulled the balled message outof a trashcan,
She said she was sorry and she said she was sad,
And shetook the only escape and just ran.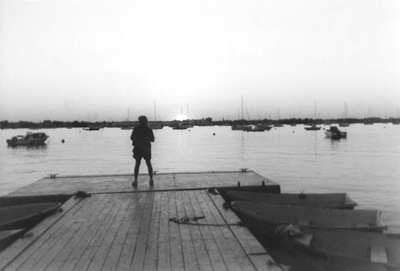 © Lindsey D., Marblehead, MA