She Was Gone
July 10, 2009
He looked at the memories piled in his heart as he stood on the frosty ground.
He looked as she lay below him, her heart of gold gone cold.
The epitaphs surrounding him seemed to watch his every move.
He saw her in the kitchen baking food for Thanksgiving day.
That wonderful morning after their wedding.
Their baby girl in the hospital nursery, smiling up at them.
The salty flavored water falling down his face thouched his lips like vinegar, bitter to the taste. He moved hsi rough calloused hands up and down her cheek, then closed the maple vineared casket, turned, and walked away.
He gently picked up his little two year old girl adn snuggled her against his chest.
"Where's Mama?" was all she asked.
The young girl sobbed as they drove hime and walked into the house.
As he went down the stairs he saw his wife folding clothes like always.
He closed his eyes and opened them again.
She was gone, it was only in his mind, only in his mind she lived, but to the world -
She was gone.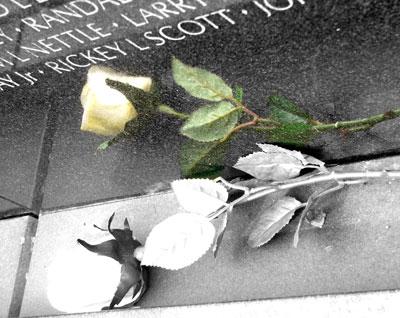 © Kimber E., Yorktown, VA