Listen to the Eyes
July 9, 2009
When you see someone, all you see is a face.
you see a mouth, ears, and eyes.
You hear word, words to cover up the face and the person inside.
When you see a person, you judge beauty by the face.
But it is beyond the face that true beaty lies.
The true beauty you can see only in the eyes.

Words can lie. They can easily deceive.
But eyes are always truthful.
You can listen to the eyes, understand the person beyond the face.
But you must learn, for each pair of eyes speaks its own language.
And you must learn to listen, as the eyes make no sound.
You must learn to hear the eyes with you own eyes.
Those who do not listen leave countless words unspoken;
They stare blindly at the face, a mask for the soul,
while they could be speaking to the real person,
not just the face, not just the stained glass window that stands between.

So, Listen to eyes, and you can see beyond the face.
Listen to the eyes, and you can hear beyond the words.
Listen to the eyes, and you can learn countless secrets.
(After all, why else do government officials wear sunglasses?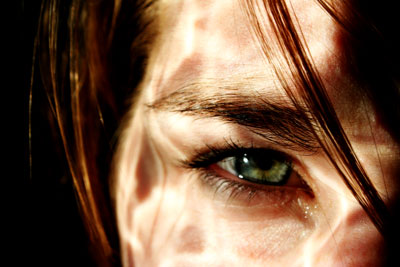 © Monica L., St. George, UT