About Me
July 1, 2009
Well,let me see,let me see. What I can tell you about me?
I'm the kind of person who can get on your nerves or make you go crazy.
I can also be the type of person who wants to be called your baby.
I have that unforgettable face,and that charming smile. The people who have my number keep me checked on speed dial.
I have the biggest family that keeps on getting bigger. And even though I love them all to death, they can have me bouncing off the walls like tigger.
It's true I can be a little conceited. But thats just one of those things about me thats needed.
I can be a total bother or a total teases.
And thats another thing you cant miss about me.
You can say I'm short but the definition is fun sized.
Don't put me in your drama I cant handle all the lies.
I tend to talk a lot and can regularly be caught talking to myself. Cause most people get annoyed and say I need help.
I can be caught red handed laughing at something that happened yesterday. People point and stare but who cares in the end I'm okay.
I'm a really great singer,and can make up my own rhyme.
I'm constantly listening to music in my room all the time.
Drawing keeps me busy,writing stays on my mind.
People who usually meet me think I'm very kind.
Taking pictures is like breathing to stay alive.
Looking good is always what I strive.
Cant look a mess when your a role model.
I even looked good when I was still on the bottle.
Most people are surprised with how much I know.
Thats only if I'm not trying to keep my stuff on the down low.
Hugs are passed out from one person to another.
Cant say I didn't learn from the best,just ask my mother.
The name's Mercedes,can't be anything less.
No Honda,no Civic I roll with the best.
There's one thing I'm not and thats fake.
Ask me anything else,it'll be a piece of cake!!!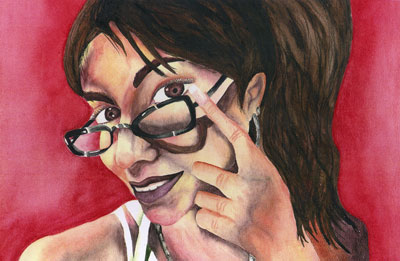 © Colleen P., Jackson Heights, NY