Lost My Escape
July 7, 2009
Where in the day, is it alright to harm?
Where I ask, in the night,
Is it okay to destroy?

Why now, do you make us cry?
Make us scream, wish we would die?

I try so hard, to listen, to understand.
My ways are torn, my life is at hand.

Oh where in my soul,
Does it say it's okay, to tear me up, from the inside out?

To wish I were gone, trying to change my mind.
It does nothing to me, I believe I am strong.

I'll fight later, till then and right now.
No shapeless being, can take me down.

The devilish skies, the hatred in the waters eyes,
Staring, watching, and hoping the worst will come.

Lashing out, at me, I am their first aim.
They strike, they fight, but I'm still in this game.

So beaten and bruised;
I don't give up.

I let the tears spill, my limbs shaking with fear.

Again and again...they strike.
The horrible force of every bash, every slap stinging.

When will it end?

I can plead, I can beg, I can reach out and scream,
But they do not hear my broken voice, my rasping echoes for help.

I've fallen into the deep, dark walls that surround me tonight.
They move; they creep around me as my eyes close,
As I slowly, painfully, sink deeper.

Many times I've tried to escape.
But so little hope, lingers in my soul.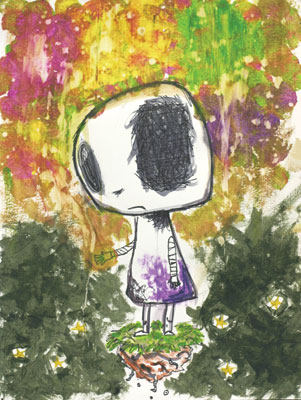 © Ashley W., Port Charlotte, FL