3:22 AM
July 2, 2009
3:22 AM is not my FRIEND.
When the fan swirls round and round,
And the click clacking of the KEYS makes me beg-
PLEASE!
Mercifully crying for INSPIRATION,
Crying out in ANTICIPATION,
What will my fingers create this time of NIGHT?
MIGHT I ask,
What I am writing?
For I do not know when my brain is sleeping
As it should this time of MORNING
I give my readers reading here fair WARNING
This creation lacks consistent RHYME,
Consistent meter,
Consistent TIME.
A sloppy figure all it's OWN.
Is this even considered a POEM?
My mind is turning with the FAN,
My heart is racing with my HANDS,
Typing, typing faster, FASTER,
Creating a monstrous grotesque DISASTER.
What is this thing even ABOUT?
I open to speak,
I close my MOUTH.
3:22 AM is not my FIREND,
Tangled mess of words,
Without.
An.
END.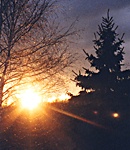 © Christy S., Germantown, NY