untitled
June 29, 2009
When the tears fall
& cuddle into the depths of sand,
When every view looks so vague
You, nod your head in total despair.
& when everything's out of control
& that when only sorrows are out there,
You feel so sad, so left out
As if you've lost your last card.
So softly does your life now go
You lay in a corner all idle all alone,
You've lost the magic of those smiles
And the heart beating fast at times.
You've been erased from everyone's life,
You just simple take those pills
And let them eat your life.
When even hope deserts you,
& your power of reasoning numbs.
You smoke cigarettes & drink heavily,
You have no clue from where you begun.
It's been a long time your tears tasted ground,
That too last came when you were hardly twelve.
Sadly from this entire huge crowd, nobody found
That, you were actually dying for help.
In hope you had your trust secure,
In hope you saw the all mighty cure.
You knew it was your last card,
But somehow you had to let it all go.
In despair you gave up,
You weren't blind, yet you stumbled stones.
You tried to tell what actually you had felt,
But everybody you knew betrayed your trust.
So you decided to make yourself a noose,
Your head was in & legs shivering on the stool,
Summoning all courage, justifying the rule
In hope you won so in hope you must loose.
The world inside emptied,
As the feeling of isolation creeped.
You headed towards the burning sun,
But you fell down from the turning wheel.
& the tears just burst out,
& cuddled into the depths of sand,
& the sand oozed out from your hand,
You now decided to let the soul go free.
So you broke all the trends,
You left but not against their will.
Mounting upon a camel,
You are now heading towards eternal sin.
Your dreams were your last card,
They sold it while you were asleep.
Eyes closed, standing in a desert,
Presenting the hungry vultures a treat.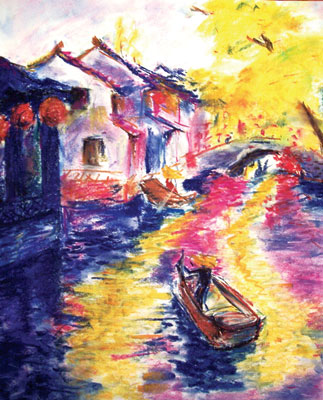 © Xiao H., Naperville, IL