Changes Changes Changes
June 28, 2009
I used to breathe in nervously
Now I breath out steam as I stroll
On a December afternoon
Slipping on the icy sidewalk

Who am I? I'm not sure
I'm a different person every week.
Last week I was angry.
I spoke with my middle finger
Now I'm waving to the man who
Is driving the shiny Escalade
And the huddled guy on the corner
Toothpick dangling from his lip

I used to spit on cracks in the sidewalk
And trudge to the Mobil station
Yelling at the drivers who didn't stop
When I was in the cross walk.

I used to buy a Coca Cola,
feel it trickle down my throat
And complain about corporations
That have me hooked on their Eden-Apples.
Now I listen to NPR.
I am hooked on Terry Gross.
I let her calm my angry fists
Stevinski soothes me.

I used to stuff words into my head.
It is a filing cabinet,
Whose drawers don't open all the way.
I was running out of space.
They told me to take all the words out
So I vomited them on paper
Filling in perfect round bubbles
With my Ticonderoga pencil.

And I go back to reading my book
Breakfast of Champions, Panther press
Kurt Vonnegut is my Jesus Christ
I take him everywhere I go.

I used to look at the kitchen clock
And see eleven-thirty pm
Now I wake at four am,
The scent of coffee wafting upstairs
I glide down the stairs gently
And search for my notebook, stumbling
In the tidal wave of darkness
That fills my living room.

A smile washes across my face.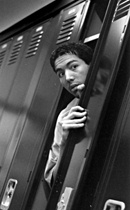 © Paulina A., Marblehead, MA