Land of Dreams
June 27, 2009
I sit here,
In a sparkling field.
The dew is glimmering as the dazzling sun reflects off it.
The trees wave in a gentle fashion,
In which birds of many nest.

The birds sing the repetive songs,
Of joy and happiness they sing.
Their vibrant colors radiate a glow,
Of what seems a rainbow of hope.

The flowers,
Spread amongst the treesthat flow in the gentle wind,
Send an aroma of the wetted pollen whisping through the air.

The smell absorbs the bees that buzz,
As they fly around the fields.
They come in to rest and taste
on the bright petals.
They drink the nectars that brighten their days,
Then return to their peacful hive.

Though this field is happy
and all is calm,
It exists only in the mind.
It is a place of dreams,
In which I travel often.
Though I long very often to see this place again,
I have it always at the blink of an eye,
then i am at peace again.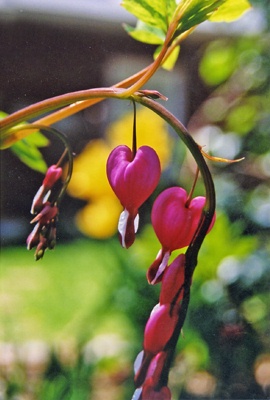 © Sophia E., Wilmington, DE