The Year
June 25, 2009
Amber leaves studded with bright dew
Drape themselves like starry bijoux
Over shapes of brown matte glass,
Rising from seas of shining grass.
The autumn palace stretches high
Under blankets of crystal sky,
Brushed with soft, feathery clouds,
Forming white, loosely woven shrouds.
The wind through the leaves sighs, shivers,
Through lands of luminous rivers,
Carrying fragrances of sweet pine
Through thin branches that intertwine.
But this fades with the winter snow,
The ice burdens, the boughs hang low,
And with the spring comes summer's gold,
In Atlas' hands the globe is rolled.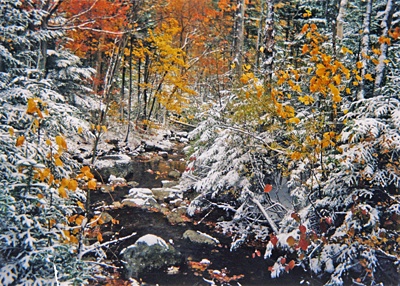 © Eric E., Lexington, MA