Welcome To My World
June 24, 2009
Welcome to my world.
Where the skys are black,
People don't talk,
Music is played,
They don't walk,
They have no eyes,
So tears can't drown them.
People don't die,
They just dissappear.
Mouths are sewn shut,
So evil words can't be spoken.
They can't feel,
So the cold doesn't kill them.
They don't eat either.
But they can listen,
They listen to music,
All day,
And all night,
And they are all calm.
In my world.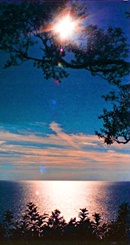 © Crystal B., Gresham, WI