Its someone,I cannot think who though..it sadens me.SecretLove.
June 22, 2009
Why must he do this?
Look at me
Stare at me
Act like I don't notice?
Not fealing right
I have funny fealings in me
When he stares with those eyes, those eyes of burnig passion
And once i glare over he turns away,afraid that I might notice him?
Even though he already knows that I can secretly see him looking at me
I have friends that tell me
I have sources.

For once he isn't looking so it's my turn.
I look over
But quickly turn away when he looks over yet again
Almost as if he wanted for our eyes to meet for once
Did he?
Instead of turning away like always as if he Wasn't looking

I try again.
Look over
He's looking but for once doesn't turn away
Stares
I stare back
Embarrassingly I can tell that my friends behind me are doing little "lovey dovey" hand motions
I can handle it though
Then it gets to me, I blush

Great,I ruined it!
Nope,I didn't!
Perfect.
I actually helped it
Because now,he's standing up
He's standing up in front of all his friends & mine
And me.
Me.

He strides over to my table
I look over to my friends
Scared.
Curious.
Anixious.
My stomach is doing back flips by now

He gets there so my friends notion me too look up
I do.
He holds out his hand to have me stand up
I have a shiver go down my spine
I take his hand & stand,nervous

Now everyone in the cafeteria is staring
At us
Us.
He grabs my other hand
I look down as he does it
Still looking down, he removes his hand & lifts up head
This way we are staring at eachother

He leans in closer
Kisses.
Hugs me.
Then goes back to his table
In total shock, I stand there but finally sit down
Silence overtakes the lunchroom

One of His friends,that is also my friend
Stands,claps
He stops clapping, says these words looking at Him "You're finally a man"
Sits down
People now start talking
Talking a Lot.
Almost too much.

He walks back over
So, silence over takes again
"Now you know why I stare"
I nod,smiling
He goes back and sits down again
Talking again.
They are talking.
Talking
Again.
Secret Love.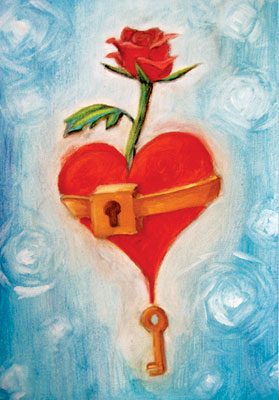 © Louisa L., Pleasanton, CA