The Sea Story
June 22, 2009
The thick sand;
Layer upon layer
Of dirty, hard sand
On the coasts of the ocean.
With trembling hands,
And sober feet,
I squeezed the rocks
Between my toes.
A man soon came
To wish me tidings of the summer.
He told me that August
Was a goddess
Meant to be worshiped.
I shied away
From the interesting man,
And pretended I did not hear him.
He stopped me,
Sat me down,
And painted the picture of wind.
He told me of life,
And beauty,
And everything there was.
He let me touch
His wrinkled face,
So I would know how it felt
To touch time.
He let me stroke
His silver hair
To feel the universe
At my fingertips.
And then he sung
The ocean to me,
And filled an abyss
With salty, clean water.
I felt like I was everything,
Until he grew tired.
He told me he needed to rest,
And I understood,
Because my grandmother takes naps sometimes,
Too.
So he laid his gentle face
On my shoulder
And drifted off.
After hours of
Appreciating the sea,
I told him to awaken,
For I had to go.
He did not wake.
And so I sat,
And realized
That he had given me
All of him.

So I told his story
Again.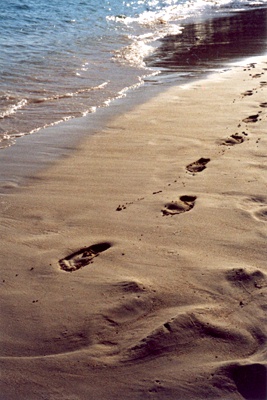 © Ashley B., Potomac, MD