Why I Hate The Snow
MAG
I HATE snow
It turns the sky ordinary gray
The gray of that too-tight sweater that I yanked over my face to keep me warm
When my face was gray from that fever I got from going outside on that day snow turned the sky gray.
Snow lies
It's white, scintillating sparkles give us a false impression of a clean untainted world
And when warmer weather rides in on the spring breeze the snow cowers and runs away down storm drains, exposing the dead grass and withered flowers that were once Easter egg pink.
Snow kills plans. Layer and layer and layer fall, burying roads and suffocating and chances of chilling I have with friends
In stuffy basements where we take the weight off our feet on itchy sofas
and take the weight off our hearts sharing secrets while waiting for something to come on TV.
So I sit here looking out.
Lazy clouds too tired to carry the burden of those mischievous flakes get ready to put the icing on the slice of mudpie I call Congers.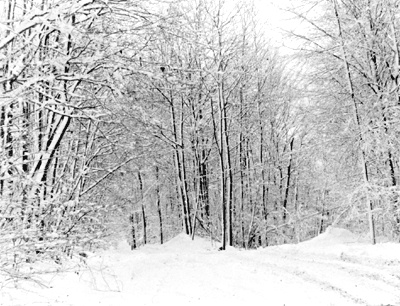 © Thomas S., Portville, NY