A Girl in Any Airport
MAG
She was dressed in blue jeans
& black, possibly off-brand, but more likely Abercrombie & Fitch.
Awaiting departure @ gate 32
to Seattle
And me: tan corduroys, white Hanes t-shirt, all cotton, gate 16
to Tampa
I wanted to ask her to marry me, or at least
sneak a couple subtle pick-up lines in
like:
"What say we go crash your car?" or
"I have a strange fascination with the way
your voice smells like apples," or
something vague or nauseating like that.
And I could tell her secrets like ...
well, I could tell her that
every time I've kissed a girl for the first time
(that is, every first kiss)

The Girl Has Cried

Admittedly, one or two had the civility to go
to a bathroom, claiming contact trouble or that
the smell of the onions in the theatre irritated her
perfect, hazel-brown eyes.
And I could tell her that I convince
myself that the tears are due to the inexplicable
beauty my lips bring to the world, but I know
It's the scars [both literal and metaphysically mental]
and the Elmer's glue brainwaves that will, now,
always be a part of them.
I felt it important to tell her that
[on previous occasions]
I had been mistaken for: gay, straight, bisexual,
a drunk and a teetotaler, a candidate for school
board, a writer, artist, tragedy, comedy, a
vegetarian, a feminist, a masochist, a Catholic,
an atheist, a clown, a stoner, a student, a hippie,
a punk, a mod, a third wave Rudy, Greek, Italian,
French and American, but I reconsidered.
Yeah, I thought I found love [in the terminal
waiting area, hiding between the Coke
machines or leaning against the wall,
smoking a cigarette, maybe mentholated
Kools, the slim kind] - But I was just
out of Doritos.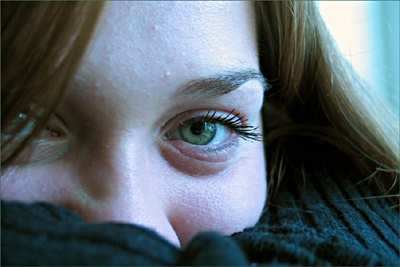 © Andrew M., Belleville, ON, Canada