Sand Art
MAG
I'm not mad
And you're not tired
So everything's okay.
Your cinnamon hand
with strong soft fingers
And chipped chewed nails
Is beautiful
Like the butterflies we create
on the paper
Flitting among stemless irises
Gritty and stuck on the page.
I believe in colored sand
Like I believe in you.
Where does it come from?
Is there a beach of colored sand
somewhere
That leaves the sunset pale?
The sand was bagged and hoarded
So we could make butterflies
On a night so full the moon swells.
We try to save the fallen grains
But the kitchen floor is gritty
And orange is really a shade of pink.
I can't believe that our colored sand
Could be caged and channeled
In a technicolor hourglass
To count down the time left
A hoarse dry cascade
Spinning away into oblivion.
And only one grain left.
But there is turn after turn
of the technicolor hourglass
By a cinnamon hand
With strong soft fingers
And chipped chewed nails
More beautiful than butterflies
Or the soft swollen moon.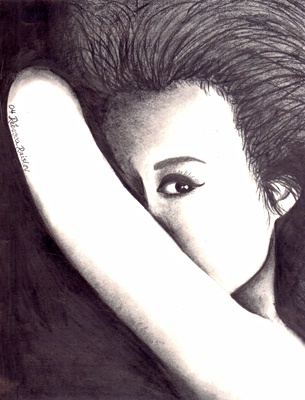 © Rebecca R., Edison, NJ