Last Eve
MAG
last eve
i played the guitar
better than i ever have
but not that well.
i turned away from the TV.
as i shut it off
(it was hurting me)
i wonder where exactly
i think i'm headed:
connotation Canada?
i finished a good book
and in a while i'll finish
another.
sometimes i don't know
what i want,
though that's silly.
Tomorrow
i will seep deeper
into five years from now
when i expect it to
be perfect
though should i (i should)
reconsider here and now,
once more?
in five years
i will visit my
daddy.
but maybe, by then,
i will play guitar
Better.
And maybe violin, too
and have read more
good books
and tasted more
of what i want.
And i'll sit there
with my father
as though i did it
all on purpose
and i'll give him
my tea
and my best vegan dish,
and my best.
Just best.
because i'll have had
time to breathe
by then.
And i'll play him a
song,
one i know
he'll love
and i'll play him a
song,
one i know
i'll love
and i'll give him a
good book
just to hope
he'll read it
and learn
and talk to me
but Eventually the
conversation
will go back to
Last eve
and the time
I played the
guitar
and where I thought I was
going
until I realized
I was always
somewhere else
and where I was going,
in a way,
was where I was
Unclouded.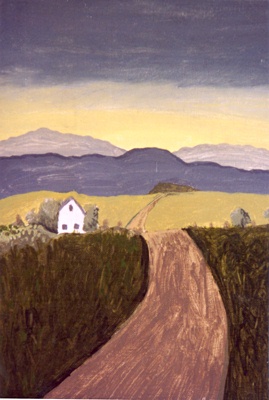 © Alisa L., Tracy, CA