Grow
June 18, 2009
One day, as you were walking down the street,
You looked down, and noticed something at your feet,
You went to get a closer look,
And as you picked it up I shook,
It was a piece of my shattered heart,
just recently ripped apart.
"oh look" you say, "another one"
and now your search becomes fun,
you find 2,4,5,6 more,
"why are these scattered on the floor?"
You see me in a lonely space,
with dreadful tears stained to my face,
my chest just a ripped open whole,
only thing shown in my broken soul.
Without a word you walk away,
I begin to ask, "why wont you stay?"
My dear, you'll see in all good time,
Just leave it to me and you'll be fine.
I bend my head back down,
and glue my eyes back to the ground.
after a minute or two you return,
And ask, "how could such a cruel monster come to earn,
such a beautiful girls heart?"
"well," I ponder, "if ask you must,
I give out that little heart like free samples."
"And every time it ends up trampled?"
Answered the young man very coy,
I cant help but notice your a handsome boy.
"Wait," i say, "Earlier you said you'd fix me,
then you scurried away quickly."
"Ah yes," you say, then bended
your elbow from behind your back, and I see what you've mended.
You state "It wasn't easy to revive"
"Oh my," I say, " It looks so alive."
you nervously ask, "May I?"
You move in so close, eye-to-eye,
in your hand my heart races,
"why do you make embarrassed faces?"
You slide your hands into my chest,
I wonder out loud, "don't you find this grotesque?"
"never" you reply, and next to me you sat.
"your to beautiful for that."
Then right next to you I transform,
Like my personality lost millions of painful thorns.
I smile and softly turn towards you,
I laugh, "Happiness feels good, who knew!"
Now we both sit and giggle together,
"I haven't felt this way in more than forever."
You gently put your hand to my face,
And your fingers move as if to trace.
Your hand feels heat as I blush,
Every ounce of blood in me begins to rush.
You get closer, now nose-to-nose,
I feel my eyes begin to close.
Our kiss so beautiful and sweet.
"Ha!" you exclaim, "It all started with a look at my feet."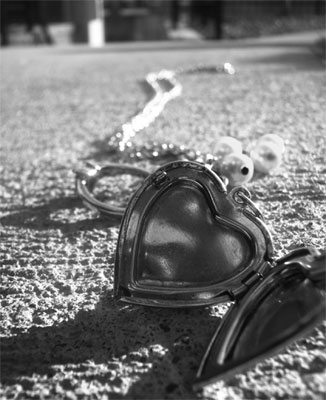 © Francesca Y., Robbinsdale, MN