Then and Now
June 17, 2009
Whats makes then better than now? You ask yourself really, why was I happier before but not anymore? Maybe you became close with a certain guy. It could be that your social life was improving and you had things to talk about. Maybe you found yourself looking flawless every time you walked upon a mirror. It could also be that you achieved those grades you knew you deserved.

So why has all that changed? Its depressing figuring out why that guy vanished from your life. The girl you find him now interested in is more of his type rather than you. You find yourself torn up in the inside wondering what you did wrong. Why are your friends gone as well? It's not your fault that you take school work more seriously. You're simply just trying to do whats right. You look at the pictures and find something missing from them. You.

Your not glowing anymore. The beautiful face you used to look at everyday is covered in make-up. You hope it will hide the reflection that your trying hard not to reveal. The last few test scores that were returned to you have not quite reached you're standards.

The only thing your thinking now is "where has my confidence gone?" You're looking in the mirror watching your reflection's eyes wonder around searching for the accurate answer.

The only thing you can do now is hold your head high above the clouds. Tell yourself that anything is possible. Learn to get through these tough times and do as much as you can to feel happy again.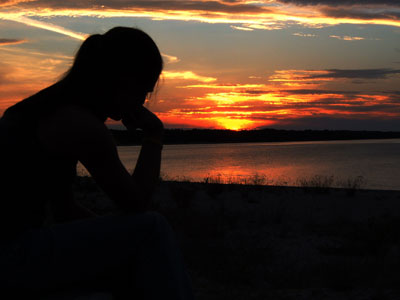 © Hilary L., Rogers City, MI