In the Darkness
June 17, 2009
Alone with nothing,
In the dark without a light,
No hope or courage,
The darkness engulfs me,
I am alone in the dark.

Darkness is haunting,
Dread, Despair, and fear, everywhere,
No bright light, so dark,
No kind hand or leading light,
Is in this night of darkness.

It is everywhere.
Surrounding and mocking me,
Holding and choking,
It cruelly laughs in my pain.
I am hoping for light.

Forlorn for the light,
I subdue to the darkness.
Waiting for some help,
I loudly cry out in the dark.
But, why can no one hear me?

Abandoned, I am.
One soul lost in the black sea,
I lonely swim.
A goose missing from its flock,
I quietly cry for some help.

Eyes, ears, mouth, and nose,
See, hear, taste, and smell the night.
My hands feel the dark.
But, there is not a thing there.
No person, No soul, no heart.

It tears out my heart.
It crushes, rips, and stabs it.
Crying from anger,
My poor heart slowly changes,
To a stone filled in darkness.

I feel so hollow,
Like a carved out black coffin,
With little hope or dreams,
With nothing but loneness inside.

Where is the bright light?
When will the helping hand come?
How long do I wait?
Why does the dark come to me?
How far does the darkness go?

Or maybe, no one will help,
because I am to help myself.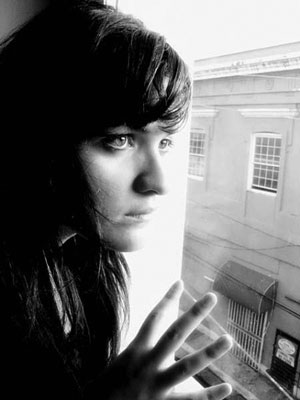 © Eveliz V., Bayamon, Puerto Rico