A Message From Mom
June 9, 2009
Smile, smile, smile.
My dear, don't you cry
Because I am always here.
My heart is always close by.
My ears can always hear
What your heart has to say.
I will forever hold you tight,
Though my arms are far away.

Laugh, laugh, laugh.
The world is not so dark.
Life goes on. Times change fast.
Memories leave their mark.

Live, live, live.
As I have lived so free.
And don't you let a single soul
Tell you who to be.
Your life will move so quickly,
So darling, take your time.
Be sure in all you do,
And it's certain you will shine.

Love, love, love.
Let your heart be true.
Follow in my footsteps.
Love, as I have loved you.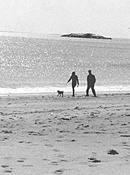 © Megan S., Marblehead, MA