Oversized Novelty Head
MAG
Jutting out from an ostentatious periwinkle turtleneck,
A great cranium protrudes into the world of pinheads, its summit
Sprouting seeds now fully matured into luscious locks
Of chestnut curls atop a saline, dripping brow,
Bushy eyebrows crazily protruding in all directions,
Slouching dark black bags, wrinkled
Beneath bloodshot, bulging eyes
Where wandering sailors could rest for a night
If ever they scaled the steep bridge and bulbous, obtrusive nostrils
Of the slender, elongated nose above obese light red lips.
An enormous, bottomless black hole
That comprises the mouth of this visage
Opens wide and shuts tightly with every utterance
Or mere breath taken.
A gargantuan cleft, hairy and drooping,
That could comfortably house little creatures
And, of course, the obvious mole
Square in the center of the pink right cheek
Expanding and conquering new areas of face
With every waning second.
Resting upon great, broad, cascading shoulders,
Lodging these peculiar oddities and natural plunders,
An oversized novelty head.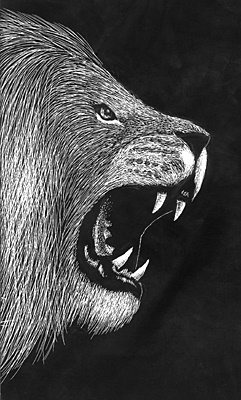 © Russell W., Alpine, UT