An Ode To The City That Never Sleeps
May 29, 2009
New York, I am in love with you.
I am hopelessly, sickeningly, recklessly in love with you.
I am in love with your people.
Your yuppies, your hipsters, your artists-
all with large bank accounts-
I'll be one, one day,
Living in SoHo, I'll eat out every night,
Go dancing in your bright clubs,
And sit on the windowsill counting taxis as they fly past.

I love your upscale restaurants and your falafel carts.
I love your McDonalds and your Japanese-Brazilian fusion.
On 5th Avenue, I got sick from a hot dog.
My cousin snuck me into the Plaza Hotel,
And we stayed for tea.
We sipped like high society, but got kicked out
When her blind dog Olive jumped out of the purse.

I heard that in the '80s,
Times Square was a dump-
Pam says she'd just grab her purse and run across-
But you are so gorgeous now,
The buildings, the buses, the busy,
Once, I got lost from looking at you.

New York, I love that I'm scared of you.
I love how badly you kick my ***
I love that I'm not ready for you, and probably will never be,
But New York, I love you
And I always will.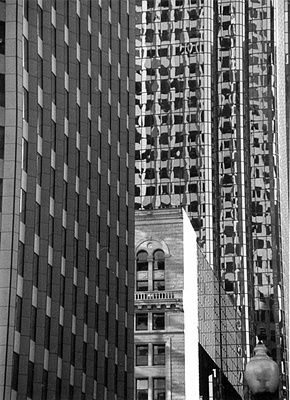 © Natalie D., Marblehead, MA