This Present Darkness
May 28, 2009
I feel I should be happy-
My heart is light, is freed.
But I cannot go.
The darkness all around me is catching-
Is catching on my emotions.
I try to ignore it-
It just comes back,
and I'm stuck with all of this regret.
I'm living a nightmare,
and living is beholding-
I have to get away from this mess.
And yet the darkness comes again to feed-
Feed on my emotions.
I live in doubt,
I live in fear,
Falsified hope is very dear-
To me.
I must run,
I must hide,
I have to get away from this nightmare.
Sometimes love, feels like pain -
And then I'm living again.
I live,
I breathe,but -
A creature of darkness is upon me.
I can't get away,
I can't get freed -
I am soulless,
I am deceased.
I live on the reflection of my life, and -
I was stupid.
I'm the one to blame.
I can't get out -
My soul is flightless;
And trapped inside that monster's
Hide is,
My soul,
What's left of me.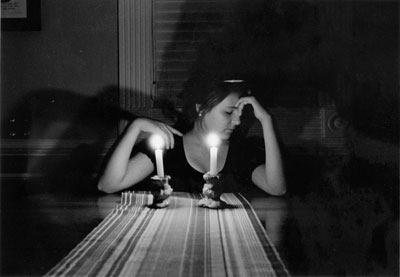 © Eleanor K., Bethesda, MD