Slowly Drifting
MAG
I sit silently.
Unmoving.
Closing my eyes.
My sister snores, as a famous Jewel song

tinkles behind,
Through a stuffed-up nose
Short sniffles every once in a while.
My grandmother talks
Random
Unimportant gossip
As my mom awaits her chance
To get a word in with her
Short
Also unimportant comments
Just to keep the uncomfortable
Silences
Between her and her mother
From creeping in
And taking over.
My dad silently drives on I-75,
Smooth 80 m.p.h.,
Searching his mind
For something to say to my grandfather
Who stares at the road ahead,
Coughing
Softly
From the congestion in his chest -
Phlegm in his throat.
The car floats on
Across a crack
Then another,
Each one growing
Louder
In my head.
My mind slowly
Drifts and shuts down,
Letting another world enter my thoughts
And make my wishes a reality.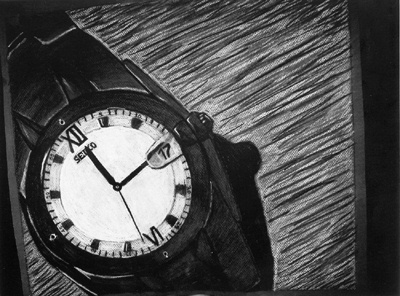 © Rachel U., Danbury, CT