I Love You
June 2, 2009
Sitting close on the stools near the kitchen.
Leaning on the counter,
talking to my mother while she cooks.
You laugh about something she said and I run my hand up your back.
You put your head down on your crossed arms on the counter and sigh with a smile.

I know you're tired from working all day
and you're worrying that I'm repulsed by how you smell
as I work out the knots in your shoulders.

But you smell so sweet and real.
Sweat and dirt and deoderant and laundry detergent
mixing together with your natural pheromones
and making you irrestistable.

You turn your face toward me and I play with your hair.
Your face is so soft.
Your smile was constructed by the heavens just for me.
At least that's what you make it feel like.

You mouth the words
I love you
and your eyes burn with such sincerity I have never known.
I feel the unadulterated adoration bubble up and
a shaky smile comes to me lips.
I love you too, I mouth back.

I hope the you know that I mean that with every fiber of my being.
My blood sings for you.
I long to slide my hand into yours but you beat me to it.

Leaning forward,
making sure my mother's back is turned,
we kiss.
Every time it happens more of my inner barrier chips away.
You reach up and pull my face closer to yours to deepen the kiss.

I feel like a shadow.
A double of myself.
A reflection.
Standing outside watching that kiss.

Then I'm nothing.
The only thing left is my beating heart thumping loudly through the room.
It feels like we're alone when we're not.
Retreating into our separate world in that kiss.

You pull away and I feel our knowledge of each other has deepened
but I know nothing new about you.

I love you.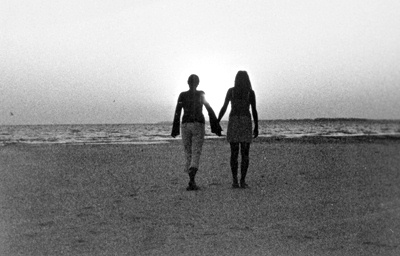 © Kim B., Marblehead, MA